So...it's snowing outside...again. I won't even begin to complain because I'd be afraid of a mob of east-coasters with pitchforks might show up at my door to teach me to be grateful for our "comparatively" warm winter...lets just say it's been nasty wherever you may live. It's even snowing at my parent's house in southern California right now...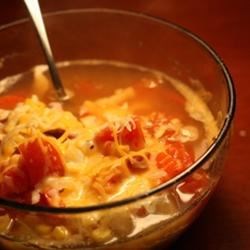 So this calls for something warm, delicious, preferably healthy, and quick (I'm feeling a lazy Saturday). This takes 5 mins, one pot, and you can eat the whole pan without any guilt or added inches to those hips...
Basically you go to your pantry-
1 can shredded chicken (or boil up some then shred it)
1 can corn
1 can reduced sodium chicken broth
1 can drained and rinsed Black Beans
1 can Fat Free refried beans
1 small jar salsa
Mix it all together...and heat it up. This may not be any prize winning secret recipe, but it's yummy, healthy, and easy...It's even better the next day. So, you "can" :) do it! And it's guilt free...well, unless you smother it in cheese and sour cream like I do...
Thanks for the recipe Aunt Chris!